Leisuretime will begin in term 4, 2020, but because of Covid restrictions,  the number of people we can have at a gathering is limited.  Classes are invited to attend on different weeks.  Following is the list of classes and their designated day.  You will need to BOOK IN by calling Lynda on 55 988 849 or e-mail her:  lyndajean@live.com.au  or Glenys on 0450 684 946, e-mail:  glenys.efoley@gmail.com; if you would like to come and haven't been to Leisuretime before, you are welcome.  Just ring and book in.
7th October
14th October
21st October

Acrylics

Beading

Candlewick

Cards Novelty

Craft cards

Crochet and Knitting

Decorative Mosaic Beads

Embroidery

Crochet Tartan Rugs

Floral Art

Glass Painting

Hand Patchwork

Knitted toys (not returning until 2021)

Knit Wits

Machine Patchwork

Oil Painting

Tapestry

Silk Ribbon Embroidery (not returning until 2021)

Smocking

Sketching

Photo Book Shop

Watercolour

Canasta

Mahjong
Carol Bell cbe91999@bigpond.net.au or phone 0407 151 787 / 5534 1821.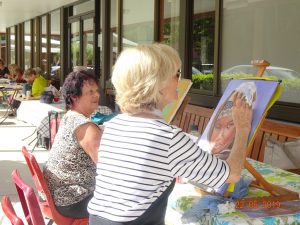 LEISURETIME will resume at Elanora Uniting Church every Wednesday morning during Queensland school terms between 9am and 12 noon, beginning 7th October. See the list above.
This group started 30 years ago with a small attendance of 35. We currently have an average weekly attendance of 200 men and women.
At present we are offering 28 electives with the aid of 40 wonderful people who volunteer their time and expertise each week to teach these skills. Electives include: acrylic painting, beading, canasta, candlewicking, novelty card making, ceramics, computer/iPad, craft cards/set kit, crochet and knitting, crochet -tartan rugs, decorative mosaic bead art, embroidery – grub roses and silk ribbon, floral art, glass painting, hand patchwork, knitted toys, knitwits (knit and chat), machine patchwork, mahjong, sketching, smocked items, the photo book shop, tapestry, watercolour & oil painting.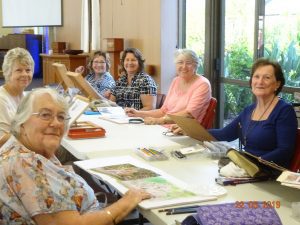 Anyone wishing to join is asked to ring and book (see above).
After class, you are welcome to drop in to 'Cooinda' for a coffee and to browse the wide variety of craft on sale there.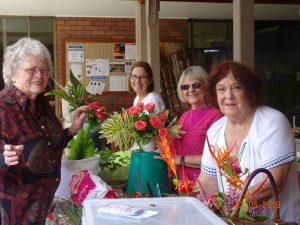 Costs are low: Annual Registration Fee $2; Weekly Fee $5
For more information, please contact Lynda on 5598 8849 or Glenys on 0457 973 032