Leisuretime has resumed, with some restrictions due to Covid. We are now meeting every Wednesday morning,  9 -12 until the Break-up day on 9th December. 
You will need to BOOK IN for classes by calling Lynda on 5598 8849 or e-mail her:  lyndajean@live.com.au  or Glenys on 0450 683 946, e-mail:  glenys.efoley@gmail.com; if you would like to come and haven't been to Leisuretime before, you are welcome.  Just ring and book in. See the list of electives below. 
or phone 0407 151 787 / 5534 1821.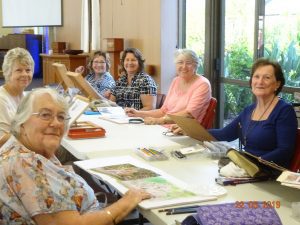 This group started 30 years ago with a small attendance of 35. We currently have an average weekly attendance of 200 men and women.
ELECTIVES: At present we are offering 28 electives with the aid of 40 wonderful people who volunteer their time and expertise each week to teach these skills. Electives include: acrylic painting, beading, canasta, candlewicking, novelty card making, ceramics, computer/iPad, craft cards/set kit, crochet and knitting, crochet -tartan rugs, decorative mosaic bead art, embroidery – grub roses and silk ribbon, floral art, glass painting, hand patchwork, knitted toys, knitwits (knit and chat), machine patchwork, mahjong, sketching, smocked items, the photo book shop, tapestry, watercolour & oil painting.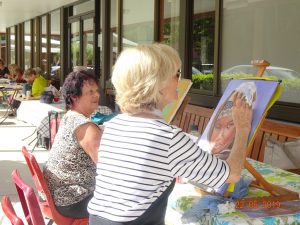 Anyone wishing to join is asked to ring and book (see above).
Costs are low: Annual Registration Fee $2; Weekly Fee $5
For more information, please contact Lynda on 5598 8849 or Glenys on 0450 683 946
After class, you are welcome to drop in to 'Cooinda' for a coffee and to browse the wide variety of craft on sale there.