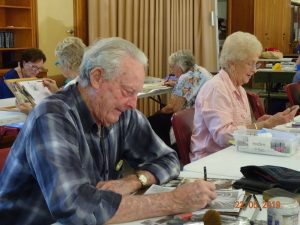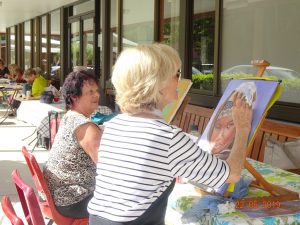 LEISURETIME meets at Elanora Uniting Church every Wednesday morning during Queensland school terms between 9am and 12 noon.
This group started 25 years ago with a small attendance of 35. We currently have an average weekly attendance of 250 men and women.
At present we are offering 34 electives with the aid of about 40 wonderful people who volunteer their time and expertise each week to teach these skills. Electives include: acrylic painting, beading, canasta, candlewicking, card making/quilling, ceramics, computer/iPad, craft cards/set kit, crochet and knitting, crochet/tartan rugs, cross stitch, decorative mosaic bead art, embroidery – grub roses, silk ribbon, floral art, glass painting, hand patchwork, hardanger, knitted toys, knitwits (knit and chat), machine patchwork, mahjong, sketching, photo restore (slides on disc), smocked items, the photo book shop, watercolour and oil painting.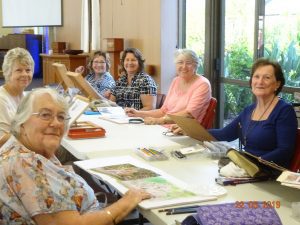 Anyone wishing to join can just turn up on a Wednesday and a hostess will take them around to see all we have to offer. We have many winter visitors from NZ and the southern states who join us while they are holidaying on the Gold Coast each year. So if you find yourself in our area, please drop in and join us, you are very welcome.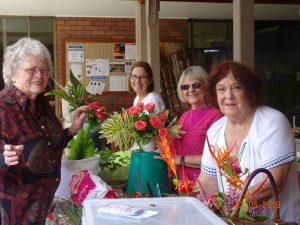 Costs are low: Annual Registration Fee $2; Weekly Fee $5
For more information, please contact Lynda on 5598 8849 or Ros on 0466 328 279.